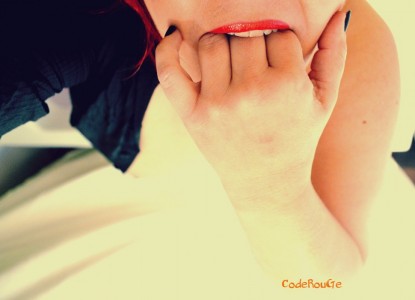 METAMORPHIS

Translated by Cleland


"Sit on my face...come..."

On my knees, I'm riding you, my body shaking from the fact that it's offering itself to you in such an intimate way. Your tongue...Your tongue oh so sweet is slowly drilling inside of me and I'm feeling your nose burying itself in between my flesh. I'm looking at you disappearing into me while the sounds of our embrace mingle with our moaning, the silence surrounding us intensifying the slightest rustle of pleasure.

At last I am what I wanted to become : A loving woman...Freed from her burden...A woman in harmony...My energies are flowing I'm feeling alive and I'm tasting every single turn of that tongue of yours. Once again I can hear my brain saying : "Fuck me with your mouth..."

But my being rarely lets words such as those slip out.

I feel like shouting : "Oh yes! Keep on fucking me, make me feel beautiful, so beautiful that my pleasure will spurt out inundating your little chops...This sex I need it...Make me come...Give me infinite climax...Magical fusion...Trust...Plenitude...Fuck me with your mouth...Oh yes !"
Back to you, to pleasure, to these exquisite moments...

I am feeling :
Suctions
Caresses
Desires
Warmth
Tensions
Pleasures
Astonishment and a 1000 of other things...

Our bodies united with the "Origin of the world" as attachment point.

I'm talking to you telling you that I adore you that I love what you're doing that I love feeling you undulating under me. Your fingers are inside of me allowing you to catch your breath. I pull you up then i look at you and I caress your hair.

Your eyes gazing into mine are asking me for more. My heart is beating faster I'm so wet so full of desire so happy and I'm feeling so light and so far from the world that all of this is becoming grandiose.

I'm arching my back more than ever my hands behind me searching for your sex I'm caressing you...I am gasping...Giving in to your assaults...When I hear you say : "I want to make you come! Keep movin' keep movin'...Yes! Com'n Com'n...Again...Again..."
I lift myself up a bit overhanging over your lovely face...Your fingers are back inside of me you're looking at me straight into the eyes then...You push your fingers further in and you press on my G-spot...Instantly my body stretches out and I loose myself : "Yes yes"

The pad of your fingers...This pinching sensation yes this pinching sensation and this vibration that's rushing up so high that even my palate is stinging. My body is electric. Out of control. In a flash I catch your expression as you're feeling the first squirts of my pleasure crashing on your face...You seem bewitched, almost crazy...

The more you hear me, smell me and see me the more your ardor redoubles...I am in a moment out of time. The acute pleasure of giving you back what you're giving me.
I'm coming...Once again...And I'm screaming without even knowing that I'm screaming...Without even knowing that I'm coming...And I'm not sure but I think that I end it all with a vivid, powerful and liberating : "Thank you!"